Here's Why People Should Wise Up And Buy The Stunning 2021 VW Arteon Instead Of Another SUV
The 2021 Volkswagen Arteon feels like one of those car-designers sketches made real, and in a world now mostly populated by tall, clunky-looking SUVs, driving something low and elegant like the Arteon feels like a statement. Based on sales, though, it sadly looks like it's not a statement many people are interested in making.
I may be shallow, because my entire motivation for wanting to test a Volkswagen Arteon is that they're lovely-looking cars. Even for me, a person drawn to goofy cars almost congenitally, I can't help but find the low, wide, lithe-looking shape of the Arteon appealing. When you're standing by it, it has real presence.
(Full Disclosure: Volkswagen loaned me the Arteon for a week with a tank full of what I assume was gasoline (it tasted like gas) and an interior absolutely filled with a mixture of about 78 percent nitrogen, 21 percent oxygen, and the remainder with water vapor and other trace elements.)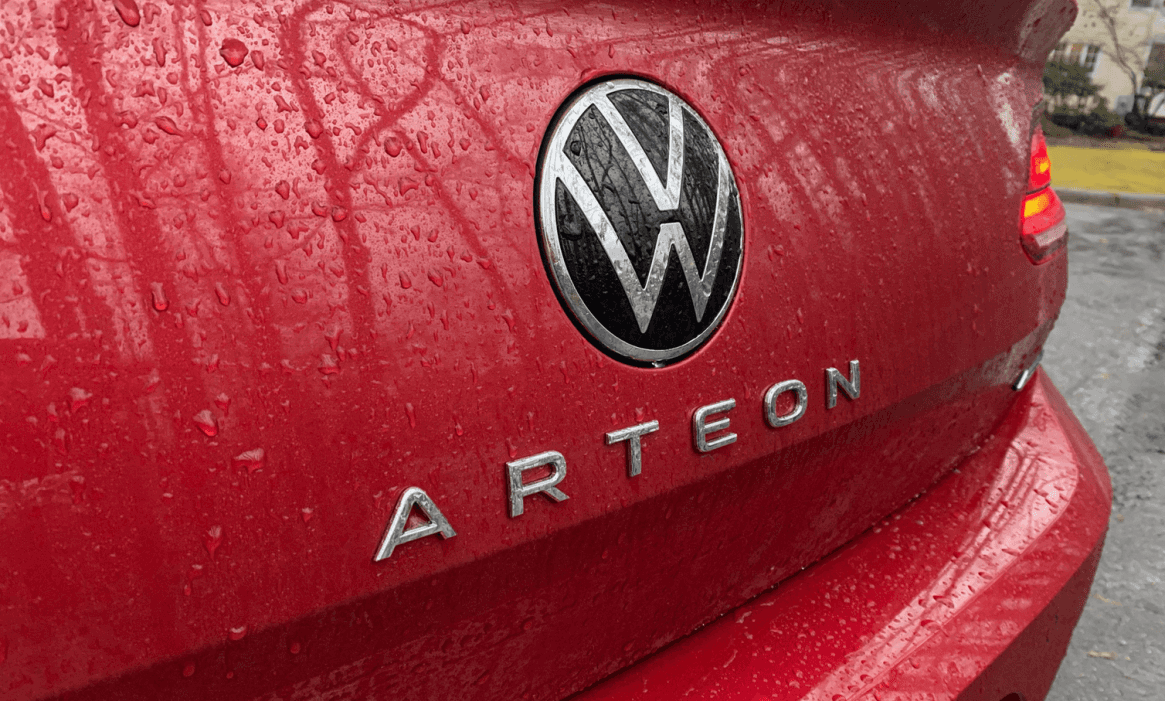 Volkswagen has a bit of a tradition with having at least one premium fastback-style car in their lineup that is (arguably) their standout design halo car. I personally would peg the start of this back to the Type 4 fastbacks in 1968. While many, maybe most, people wouldn't agree they were particularly attractive, I still think they started VW's quest for a big, pretty fastback car.
We saw various Passat generations having at least one rakish-looking fastback option, and then VW got more deliberate about it with the Volkswagen CC introduced in 2008. Now that Passat's sexier cousin has grown up into the Arteon.
There's a pretty big jump in price from the more conventional, trunked Passat to the Arteon — about $13,000 — but the Arteon is significantly better equipped and has almost 100 horsepower more from its two-liter turbo engine, at 268 hp. Really, though, I think the punctum of the Arteon is its looks. That's why anyone would give a shit about it, it's why I wanted to drive one, and it remains, for me, the biggest differentiator of this car. So let's talk about it.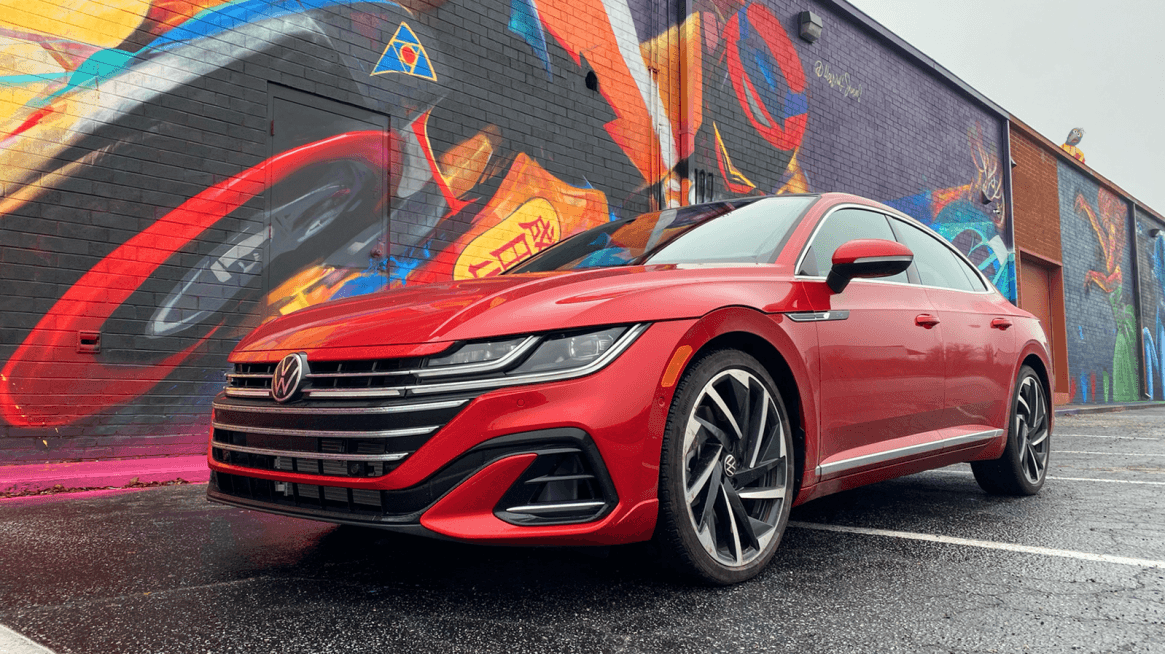 Volkswagen Arteon Design Breakdown
I know it's a clichéd thing to say, but I honestly mean it: I don't think pictures quite do this car justice. The proportion and dimensions of the car are crucial to how it comes across. It's wider and lower than you expect, and when you approach it, it feels crouched and ready to spring, like a cat in that moment just before it starts to wag its butt and leap onto a hapless vole or roach or something.
The front end, with its wide grille and dramatic horizontal bars that wrap up and into the lighting elements, just further emphasizes the width. The huge hood feels low and massive, perhaps thanks to the prevalence of tall crossovers and SUVs. The sharp arcing creases make it sort of feel like a horseshoe crab shell or something similarly aquatic.
I like that big, low hood. It's also the first hood I've encountered on a new car in quite a while that uses gas struts to keep it open instead of a janky little rod. It also is a sort of clamshell design, so if you're working on it you don't have to worry about your belt buckle scratching the visible top of your fenders:
I like the profile as well; it's long, sleek, and I like the arc of the roofline. The wheels are proportionately large to the rest of the car, which emphasizes the drama of everything. I know these particular 19-inch wheels aren't to everyone's taste, but I like them, in a sort of shouty way.
There's some nice detailing on the car, like the lighting design, which has a full-width front lightbar and indicators that are formed by the inner L-shaped grille bar section, and similarly-themed visual motifs in the taillights as well. Overall this is a car more defined by its larger forms than its details, though.
The rear quarter view looks great as well; you can see the pronounced rear haunch-like swellings over the rear wheel arch here, which aren't obvious in profile, but do a lot to really plant the car visually when you look at it from off-angles.
The taillight design is strong as well, though I think I prefer the slightly different Euro-spec taillights because they include an amber rear indicator (only visible when activated), which is just one of those things I think makes more sense.
The Arteon has a fairly low greenhouse, which often can make a car's interior feel claustrophobic, though that's not the case here. The dramatic rake of the rear hatch with its huge window, and the glass roof on the car I was loaned, made the interior feel surprisingly airy, which I wasn't expecting.
Honestly, I think the proliferation of panoramic glass roofs may be one of my favorite things about our era of modern cars. You know, since I've already started talking about it, let's get into the interior, the best place on the inside of any car. While we're in there, we may as well talk about how it drives.
Driving The 2021 Volkswagen Arteon
I've seen other reviews of the Arteon that suggest that its driving dynamics don't quite match its looks, and that when compared to similar but more expensive cars from BMW, for example, it's slower and less engaging. Now, that's not necessarily wrong, but I think it also commits the very common automotive-journalist sin of ignoring the context of how these cars will most likely actually be driven.
Sure, I don't think I'd pick the Arteon as my track car of choice, but this really isn't something that's likely to come up for, um, anyone who's looking at an Arteon. This car is very clearly designed to be a fast, comfortable, roomy everyday and road trip car, not a canyon-carver. That said, I found it occasionally fun to drive. The turbocharged 2.0-liter inline four makes a respectable 268 HP and 258 lb-ft of torque, and at no point did the car feel slow to me.
I'm told it'll go from stopped to 60 mph in about six seconds, which is plenty fast, and when I stomped on the throttle it made satisfying noises and pulled like a champ. Not neck-snapping or bladder-voiding, but if you're not satisfied with how quick it is, you're probably looking at the wrong kind of car.
The eight-speed automatic gearbox must have been fine, because it never gave me any reason to think about it, if I'm honest. I suppose that's better than being annoyed by it, and worse than being thrilled by it.
I thought the steering felt precise and responsive and I enjoyed whipping it around and driving like a dipshit on backroads in the rain with ease. The 4Motion all-wheel drive system must have been doing all of the things it was supposed to do because the grip was great even in the wet. What I liked best about driving it was something that modern buyers seem to hate: the Arteon is low.